I went to visit some old friends recently and had a
bad
skin day. You know the ones where you look in the mirror and you obviously need foundation. Once you put the foundation on, however, it looks like your foundation is caked on and dull (I use super sheer reflective DIORskin Pure Light so for it to be dull is a huge deal). On the verge of a emotional breakdown - why wasn't my face matching my neck like normal?!- I ran, well drove, to the nearest Sephora and spent the next 45 minutes comparing every skin brightening face mask they had.
Enter Korres Natural Products. I have always wanted to try their products but was too scared to because I had not heard anything good or bad about them. No news is usually bad news. I took this opportunity to snatch up the wild rose mask which is marketed as an "instant brightening and illuminating vitamin C mask."
And so much more!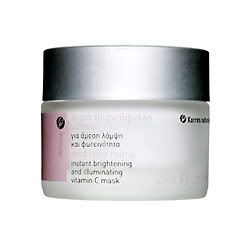 This stuff is absolutely amazing. Not only does it do everything it says that it does, it does it with the prettiest light rose scent. Skin improvement and aromatherapy all in one? Sign me up! I am seriously in love with this stuff. It smells just like the rose-scented Yankee candles. My skin was soo smooth and so soft, I swear I was glowing.