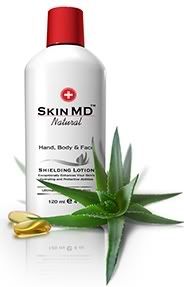 I was recently given the opportunity to try
Skin MD Natural.
I was a little skeptical at first but that went away as soon as I tried it.
I suffer from really dry elbows. I mean dry, to the point where in moments of desperation I have been known to lick my fingers and then rub my elbows. EW. Haha.
Skin MD Natural refers to themselves as a "shielding" lotion. The claim is that conventional moisturizers only replace natural moisture but do nothing to help retain it. Skin MD Natural works by moisturizing deeper and then bonding to the top layer of skin to keep irritants out and moisture in. Having personally gone through many bottles of Bath & Body Works lotion (I can't help it - it just smells so good!) and been less than satisfied with the results, this sounded too good to be true.
But it wasn't. As soon as I slicked the first layer on my elbows, legs, hands, and feet, I could tell an immediate difference. My skin actually felt soooo
smooth
. It was great to have soft, sleek, smooth legs. It gave my legs a really pretty sheen as well. And it definitely stayed that way longer.
Since I originally wrote this post, the girls over at Meg's Makeup have also reviewed Skin MD Natural (
here
) The girls bring up a good point that if you like a nice heavy duty moisturizer this is going to feel too light. I recommend slathering on a nice thick lotion and then "sealing" it with Skin MD Natural. Or try a moisturizing creme body wash/ in shower lotion.